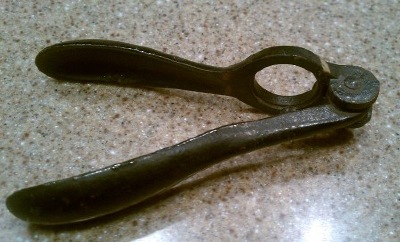 We have no doubt that someone out there knows what this month's mystery item is. We didn't, but the person who showed it to us did.

We don't have it in our possession, but we can tell you what we know about it. It's 4.5" long and hinged and has a hole measuring 7/8" in diameter in one of the handles.

To enlarge the pic, click here.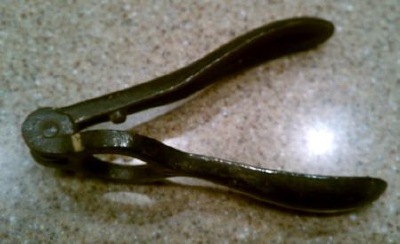 Notice that the opposite handle has a small protrusion. For a closer look, click here. Because this item is known by several names, this month's winner will need to identify both its name and purpose. Thanks to Gary M. of Mt. Sterling, IL, for supplying this month's item. He also supplied our December 2011 item.

Congratulations to Harlan S. of Nashville, TN, for correctly identifying this month's item!

Answer