We like to take on all kinds of projects in our free time - everything from building furniture to refinishing odds and ends that we find at flea markets. While we've refinished our share of furniture, we're currently not taking on any furniture restoration projects. Below are photos of some of our favorite personal projects.

Enjoy!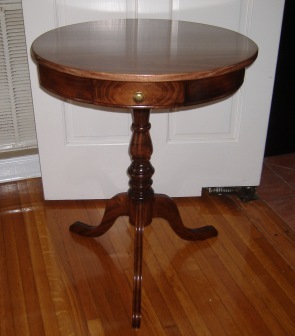 We're particularly proud of this piece. We refinished it after picking it up for $2 at a yard sale. We had to replace the top, but the rest of it is original. It was in pretty bad shape when we got it. For a closer look, click here.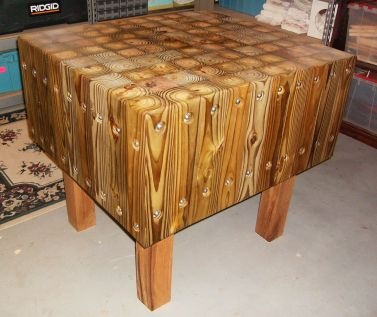 This butcher-block table came about after we found ourselves with a bundle of 4x4s. It seemed like the logical thing to do. It was meant to be a practical piece that we'd use in the garage - good for beating on. However, it turned out so nicely that we ended up building a benchtop for it. To see how we built it - and the removable benchtop - click here.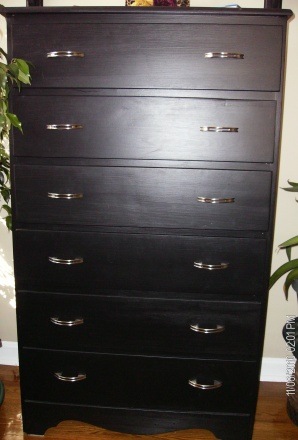 You never know what you'll find at your local Goodwill store. In this case, it was a chest of drawers for $6.99. We were in the market for a storage piece and couldn't pass it by when we saw it. Equipped with a small four-door vehicle, we crammed it in the trunk and headed home. How bad could it have looked? Click here to find out.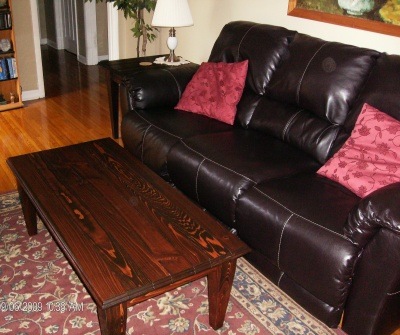 Like so many projects, this one came about when we found ourselves with a stack of cypress and free time on our hands. The result was this three-piece coffee table set. To see how we did it, click here.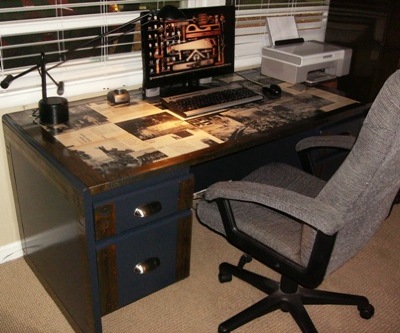 Ever spend months looking for a specific piece of furniture only to come up empty-handed? That's what happened to us. Around 2001, a friend who was moving away gave me desk that she couldn't take with her. It was made of pressed particle board, but I needed a desk, and it was free. Two years ago, when the desk started sagging and the veneer started peeling, we started looking for a new desk but never could find one we liked. Thus, another project was born. Click here to see the transformation.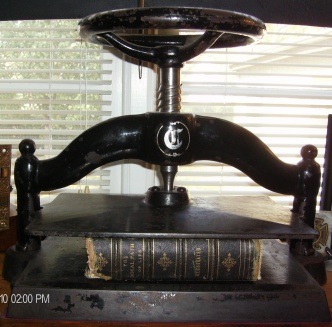 Our love of the written word prompted us to make our biggest purchase to date. We picked up this copy press for a whopping $100 at the Nashville Flea Market. We had no idea what we were in for - until we tried picking it up. It weighs in at an astounding 85 pounds and was covered in rust when we bought it.

It's important to note that although a book is shown in this press, it is not a book press but a copy press, distinguishable by the limited amount of space between the plate and the base (a whopping 3.25" when fully open). For more pics and a peek at how we restored it, click here.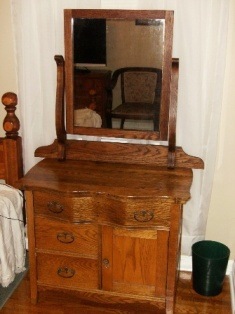 I can't stress enough that we don't hire ourselves out to refinish furniture. We've taken on the task for ourselves and family only a handful of times.

Years ago, Ron's mother refinished a dry sink before passing it on to Ron. We recently ran across a mirror that we thought would be ideal for it. Of course, we didn't know when we bought it that it was too wide for our piece, but we were happy with the end result all the same.

To see what we had to work with, click here.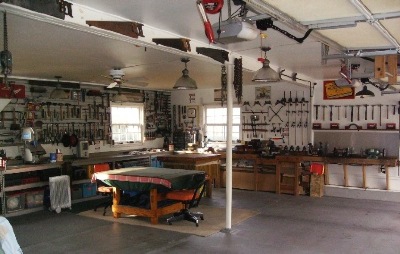 Every craftsman needs a place to practice his craft. For us, that place is our garage. It may look impressive now, but it's a far cry from what it was when we bought the house. We started by stripping the entire space down to the studs. To see the transformation step by step, click here.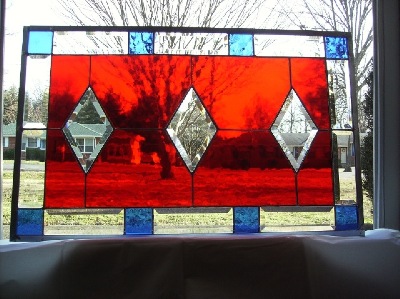 In February 2013, we had some downtime and decided to take a stained glass class. If you've ever wanted to try your hand at stained glass, a class is the way to go. We attended for 3 or 4 hours every Saturday for 6 weeks. After we'd each completed a project, we collaborated on this one. To see how we did it, step by step, click here.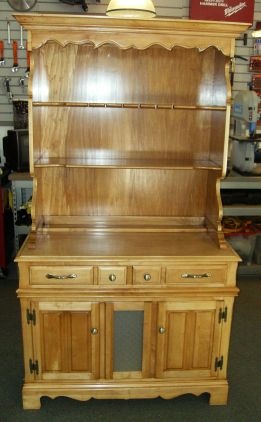 This hutch was a $10 find at a yard sale. Of course, for $10, it didn't look like this when we got it. After stripping it and replacing the hardware, it was suitable for the house. Refinishing furniture is a dirty job and one we don't undertake often. If you don't believe us, click here.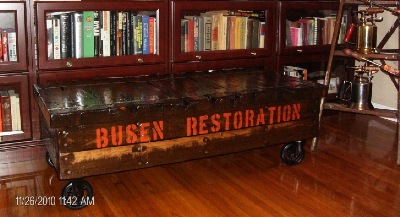 We had wanted to build an industrial cart for some time. We finally found time in fall 2010. What started as a pile of rotting wood turned out to be one of our favorite projects. Here's how we did it.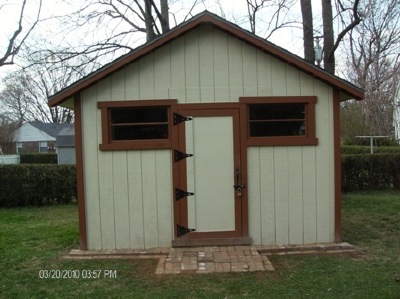 With home ownership comes a laundry list of projects you hope to one day accomplish. That was the case with the shed in our backyard. It didn't look like this when we bought the house. As a matter of fact, when we moved in, this shed wasn't even here. To see the rise and fall and the transformation in between, click here.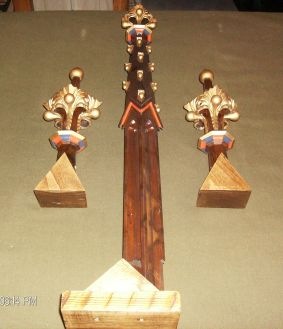 These spires came from St. Mary's Catholic church in Mt. Sterling, IL. Originally, they would have appeared behind or beside an altar. When the church, which was erected in 1864, decided to renovate in 1976, it gave away parts of the old building, including windows and items from the sanctuary. Ron's mother picked up the spires and part of an altar. In 2004, she gave them to us. For more pics of the spires - plus pictures of part of the altar that originally accompanied them - click here.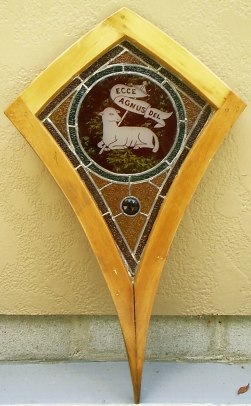 This teardrop-shaped stained glass window also came from St. Mary's. It sat in a closet for 30 years before it was passed down to us. A little love was all that was needed to restore it to its original state. Click here to see how we did it.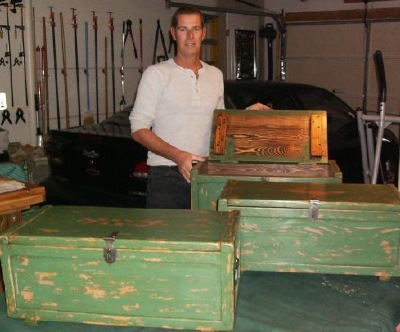 After doing some reading on distressing wood, we decided to build and distress a few trunks. We started with small ones, seen here. We were pretty pleased with the result - so pleased that we gave them as Christmas gifts and built two more. We opted for bigger ones the second time around. One of those also was given as a gift, but we kept one for ourselves. To see pics detailing the process, click here.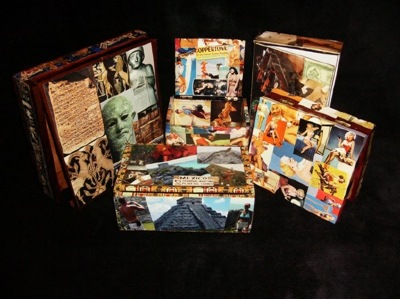 In my spare time, I enjoy doing decoupage. To learn more about decoupage and check out some of the boxes in our collection, most of which are for sale, click here. For a closer view of the montage pic on the left, click here.