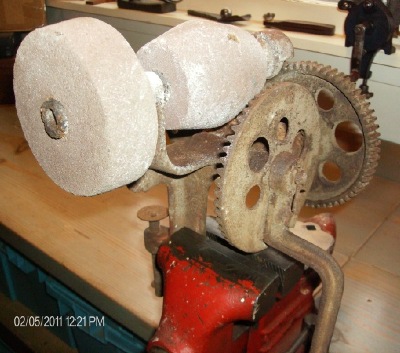 We decided to do something a little different this month. February's mystery item is a manual grinder/sharpener. That's clear to anyone. The mystery is its purpose. Do you know what it was used to sharpen? The metal arm extended downward in the right bottom corner is a hand crank.

To enlarge pic at left, click here.

For enlarge pic below, click here.

For another view of the back, click here.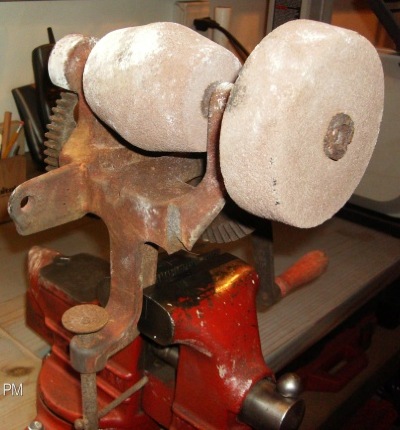 A different view shows that the tool was clamped in place when in use. It's important to note that there is an arm missing on the right side. It would have matched the arm shown on the left side. The round stone in the front measures 4.5" across and 1/25" in thickness. The conical stone in the middle measures 4.5" across and 3.5" thick at its peak. Both stones are of the same grade.

We'd like to thank Josh P., of Nashville, who provided this month's item. (Josh was also our June 2010 winner.) He acquired it from his grandfather, who earned a living as a butcher. Is it butcher-related? You tell us!

Congratulations to Jerald S. of Nashville, TN, who correctly identified this month's item!

Answer