Mounting your purchase in a presentation box makes a wonderful gift or an elegant addition to your own home. All cases come with a lock and key, hardware attached for hanging, and a brief description on the back of the items. We typically mount tools on burlap with batting underneath but can accommodate a variety of different backgrounds. The depth of the case and mounting material limit the size of items that can be used. If you have a piece in mind, send us the measurements at info@busenrestoration.com, and we'll see what we can do.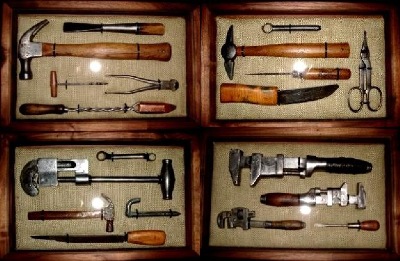 Our presentation cases are custom-made to order. You're limited only by your imagination. The boxes shown here measure 12" x 18." They make wonderful gifts or can be used to showcase a specific tool that you're particularly proud of.


Larger presentation cases (up to 20" x 28") are also available. Incidentally, these are the two cases, presented as a Christmas gift, that started it all for us.