When we started doing this 10 years ago, we soon learned how quickly a tool can rust - even after it has been cleaned. With that in mind, we began experimenting with ways to protect the metal on the tools we cleaned, hoping to find a method to minimize or at least delay the rust process. In January 2010, we took it a step further.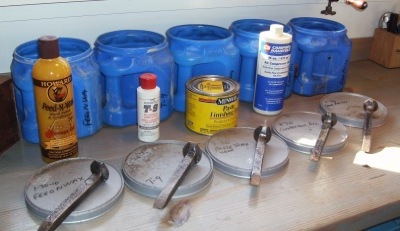 Previously, we had evaluated the effectiveness of different products indoors and unexposed to the elements. To get a better idea of what works, we conducted a year-long "rust test." We took five railroad stakes and cleaned them with a wire wheel, removing all the rust. We then coated each one with a different product and placed it in a plastic coffee can with a lid. Each can had 5-6 holes drilled in the bottom to allow maximum indirect exposure to the elements.
(For a closer look at the products shown, click here.)


The cans sat behind our house for one year - through rain, sun, and snow. Not surprisingly, rust developed on every stake. However, some products fared noticeably better than others. Below is a rundown of the products we used, along with the pros and cons as we saw it. You might be surprised at the products we chose. Years ago, at a flea market, Ron asked a vendor what he used, and he responded "shoe polish." That got us thinking.

I'd like to add, also, that being the purists that we are, paint is never an option for us. We've seen many items returned to their original state, and they look great. But our appreciation is for the vintage aspect of the tool, of a more simple time that it represents. With that said, it's important that the tool remain usable, so polyurethane is also out. Once poly is applied to metal, it changes the texture and practicality of the tool, rendering it virtually unusable (think plane blades, saw blades, and screwdriver heads).

Howard Feed-N-Wax Wood Polish & Conditioner: We can't say enough good things about this product. It's affordable, easy to find, and effective on both metal and wood. Importantly, it's nongreasy and doesn't alter the color of the tool when applied. Rather, it enhances it. Feed-N-Wax came in 2nd in the rust test, but since we can't find anything bad to say about it, it's #1 in our book. We've read countless reviews about this product, yet we've never heard of anyone using it as a rust-deterrent. Take it from us, it works. You can find Howard Feed & Wax at most home improvement stores and many antique stores.

Compressor oil: As expected, compressor oil came in 1st in our rust test and 2nd overall, mainly because lubrication and rust prevention are the primary functions of oil. The fact that it is greasy, not good for wood, and attracts dust kept it from ranking higher on our list. On the upside, it's readily available and inexpensive.

Boeshield T-9: This product came in 3rd overall. It is marketed specifically for "waterproof lubrication and rust and corrosion protection," and the price certainly reflects that. Additionally, it came in 3rd on our rust test and is for use on metal only. If you have a choice, try something else before spending the money on T-9.

Minwax Finishing Wax: Coming in 4th was wood wax. Like most of the products we tried, it's easy to find, inexpensive, effective on wood, and reasonably effective on metal. However, the stake we applied it to developed the 2nd-highest rate of rust. Additionally, because it's a wax, it leaves a waxy, slick finish, making wooden handles hard to manipulate. Finally, it's hard to remove from tools with small parts or crevices, open-grain wood (e.g., walnut, mahogany, and oak) and tools with moving parts. It's a good product for use on wood furniture, but it's an ineffective rust deterrent.

Kiwi neutral shoe polish: Shoe polish, which piqued our interests years ago, came in dead last. The pros and cons mirror those of the wood wax, but the stake it was applied to accumulated the most rust, which sort of defeats the purpose of applying a "deterrent" in the first place.