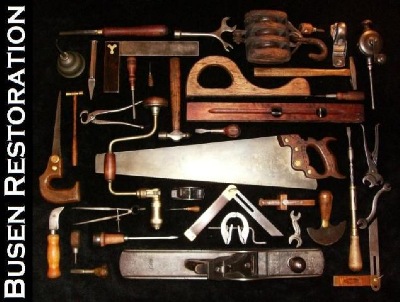 Home: Here you'll find a brief overview of what we do and how we got started.

Presentation cases: A special tool mounted in a presentation case after restoration makes a great gift. Cases come in a variety of sizes, not all of which are shown. Feel free to contact us with questions.

Profiles: A brief look at the individuals who have had an impact on the development of this site.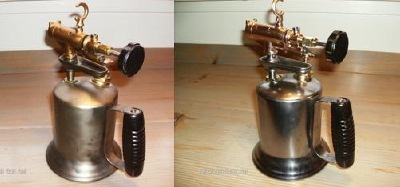 Before and After: Check out some of the restoration work we've done. Tools are grouped by category, including Boring Tools, Clamps, Edged Tools, Levels, Marking & Measuring Tools, Masonry Tools, Planes, Pliers & Wrenches, Saws, Screwdrivers, Smoothing Tools, Striking Tools, Torches, and a Miscellaneous page. The introduction contains a brief explanation of Pitting. If you still can't find what you're looking for, be sure to browse our Also for sale tab. There, you'll find hundreds more restored tools for sale.


Mystery Item: Every month, we feature a mystery item for readers to guess. The winner gets a Busen Restoration magnet and recognition on the website as well as our Facebook fan page. We've archived the following months:

December 2015
November 2015
October 2015
September 2015
August 2015
July 2015
June 2015
May 2015
April 2015
March 2015
February 2015
January 2015

December 2014
November 2014
October 2014
September 2014
August 2014
July 2014
June 2014
May 2014
April 2014
March 2014
February 2014
January 2014

December 2013
November 2013
October 2013
September 2013
August 2013
July 2013
June 2013
May 2013
April 2013
March 2013
February 2013
January 2013

December 2012
November 2012
October 2012
September 2012
August 2012
July 2012
June 2012
May 2012
April 2012
March 2012
February 2012
January 2012

December 2011
November 2011
October 2011
September 2011
August 2011
July 2011
June 2011
May 2011
April 2011
March 2011
February 2011
January 2011

December 2010
November 2010
October 2010
September 2010
August 2010
July 2010
June 2010
May 2010
April 2010
March 2010
February 2010
January 2010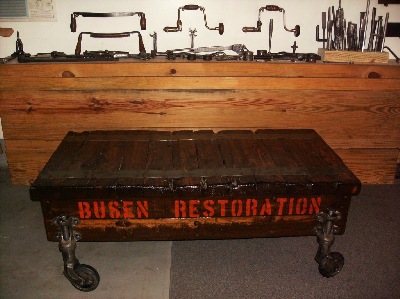 Projects: We take on a number of personal projects in our free time. This page shows the process from start to finish. Check out the following featured projects:

Dry sink
End tables/coffee table
Butcher block
Garage
Glass class
Hutch
Shed
Stained glass
Spires
3-Legged table
Trunks
Copy press
Industrial carts
Chest of drawers
Computer desk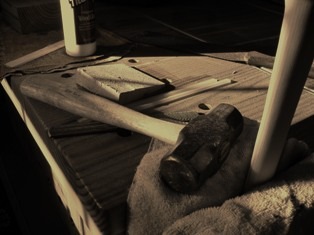 Techniques: Here you'll find the techniques we use and why we use them.

Citric Acid: Great for removing rust
Electrolysis: Also great for removing rust
Rust Deterrents: How to keep rust from reforming
Vibratory Tumbler: Another way to remove rust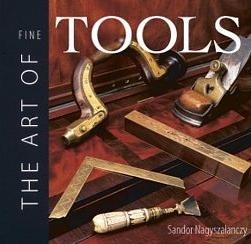 Resources: Over the years, we've found ourselves referencing a number of resources. Here, we share with you the ones that have been most helpful, including The Art of Fine Tools, by Sandor Nagyszalanczy, Classic Hand Tools, by Garrett Hack, and the Dictionary of American Tool and Machinery Patents, by Alvin Sellens. You'll also find a brief description of and links to the following websites:

WK Fine Tools
Alloy Artifacts
DATAMP*
Disstonian Institute
Toolmera Press
U.S. Patent & Trademark Office
Google Patents
Mid-West Tool Collectors Association
VintageMachinery.org
Hyperkitten Tool Company
Timeless Tools and Treasures

*Directory of American Tool and Machinery Patents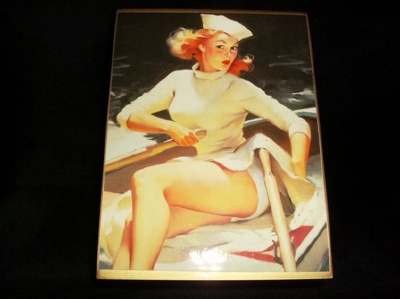 Lamps, etc.: Our interests expand beyond tools. If you're wondering what some of those interests are, you've come to the right place.

Lamps
Decoupage
Classic Artists
Historic / Biographic
Religious Themes
Vintage / Retro
Miscellaneous
Wall Boards
Art Glass
Paracord
2-color bracelets
Single-color bracelets
Key fobs
Charity
Wounded Warriors
Nashville Rescue Mission